First, my mind has officially been blown.  When I began my self-pub erotica journey, I was just trying to get a little extra money so I could go on a proper vacation (e.g. the Settlers of Catan cruise, Comic-Con maybe a weekend in Tahoe).  I'm a kinky gal, and a pretty good writer or whatever, so it seemed like an awesome way to get my stories out there, meet fellow erotic creatives and readers and make a little dough.  In the back of my mind, it's my dream to do this full-time, and become some sort of Kink Activist, slinging high quality erotica and working for progressive sex causes etc.  But it's mostly a dream.  Or so I thought!
I checked my sales for this month and Holy. Crap.
My net sales for the month of October is 956 books!  And I still have two days to go!  I jokingly told Mr VW that my goal was to sell 1000 books this month (I sold around 600 last month), totally believing that it was an overly ambitious number, but strap on your diapers, kids!  Honestly, 956 is close enough lol.
I want to thank all my readers for making this a helluva good month.  It totally makes me all warm and juicy to see that people are buying my work and *hopefully* enjoying it.  You guys rock so hard!
In celebration of my best selling month (yet 😉 ), I'm going to do a 24 hr giveaway of ANY book in my current catalogue.  If you're interested, just head over to Smashwords and scroll through and pick your favorite, then email me at avioletmuse[at]gmail[dot]com or comment on this blog post/DM me on Twitter and I'll shoot you the coupon code.  Yay for free smut!
Check out my selection and pick your fave here:
http://www.smashwords.com/profile/view/quiverpublishing
As far as what else has been going on during this super busy week…
-I recently discovered Breaking Bad.  Late to the party, I know…but that show is just full of straight up awesome.  Who knew the dad from Malcolm in the Middle was so badass?
-The LOTR concert was Epic.  Seeing the score played and sung live really made the Tolkien/Jackson masterpiece shine.
–Sons of Anarchy was a big ole pile of 'meh' this week.
-As I sling coffee, deal with general incompetence and wayyy too many chiefs/not enough indians at my mindless, cog in the machine day job, I frequently daydream about the day when I'll be able to do this:
(Note: I know the economy is crap.  I know I should be happy I even have a job.  Wait…actually, I think that's  kinda bullshit and the problem.  People are using the economy as some sort of lame ass argument that the little people should just bend over at the waist and take it like a good girl/boy and then we should say thanks for the privilege of being ass-raped.  Bull. Shit. *end rant*)
Going to my happy place…
(Violet and Christina sittin' in an office, l-i-c-k-i-n-g….)
In happy, unicorns, and pseudo-incest news, here's what's going on writing-wise:
-New Smut!  I released a new erotic short, Backdoor With Daddy: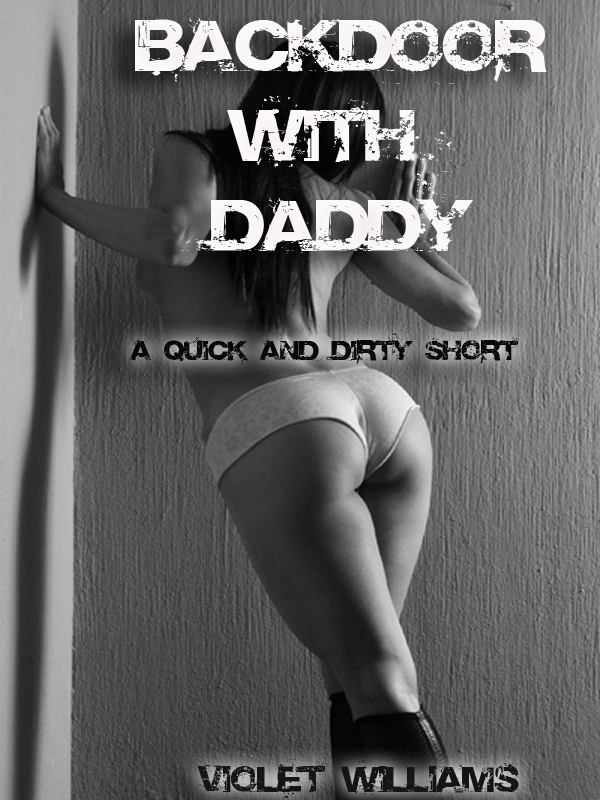 Santana Ruiz and her stepdad are always bumping heads. She's eighteen years old, but he treats her like a child– even an illicit affair won't keep him off her back. After he embarrasses her in front of a friend, she half expects him to drag her home for a spanking, but instead they take a detour on a back road. He tells her that in spite of a promise that they'd never hook up again, he needs her.
But he wants to try anal, something that Santana has never done. She thinks her ass is too tight for his thick cock, but her stepdad will prove her wrong, whether she likes it or not…
I'm working on a bdsm short, my first foray into m-m erotica, the third book in the Taboo Tale series and a story for an anthology on safe sex.  Busy, busy, busy!
Before I sign off, I want to share this really awesome bdsm e-book I stumbled across on my Kindle.  It's called, Make Me, Sir by Cherise Sinclair.  I totally lost myself in the private bdsm club portrayed in the book…it was really well done.  I know a lot of the erotica out now for e-readers are slam, bam, thank you ma'am and it was refreshing to read something where you get to know the characters and stuff.  Pre-gaming is just as important as the big event! 😉
Alright yall, don't forget to head over to http://www.smashwords.com/profile/view/quiverpublishing and comment/email/DM me if you want a free e-book today…Xmas is coming early! 😉