So this week has been crazy! busy!  I work part time as a barista, but they've been milking me days of late.  Can't complain too much in this crap economy…besides I heart making coffee and I'm all about extra money for my trip in December!
(Not me, though I wish I worked her shift because I'm sure she gets hella tips. 😉
My busy-ness meant I didn't watch SOA until last night, but boy was it worth the wait.
Here's some *spoiler-ific* highlights:
-Yay for Unser covering his bases as far as the Tara biting it thing.  He's making sure all hands are on deck, to make it extra hard for Clay to follow through with his assassination plot.
-The preacher guy from Deadwood is an asshole.  I know that every show needs someone that everyone loves to hate, but holy moly do I want something bad to happen to this guy. (I'm not gonna lie though, I really, REALLY dig his leather jacket.)
-Which leads us to the big holyshitomg!!!! of this week's eppy.  Juice has been wracked with guilt about stealing the coke, killing that prospect guy, and just generally being all pussy-like with the whole being black plotline.  I know he's worried about the bylaws of the Sons (no blacks allowed apparently?) but doesn't he figure they'll be colossally more pissed when they find out he's essentially been ratting out the Sons to the cops?  Things don't fare well for rats as far as outlaws are concerned.
I could tell something was going to happen because Juice was praying out at the prospect's unmarked grave and barely keeping it together.  So when I saw him grab that chain and sit on that branch….wow.  And then he jumped and was strangling himself and I was peering in between my fingers.  Mr VW said he's not dead though because when the show faded to black, we heard something that sounded like a branch being broken.  Either way, Juice isn't doing too good.
Pretty good episode, I'm happy stuff is finally moving. Yay!
In other writing news, hi! I'm Violet….and I have writers' ADHD.  For reals.  I'm about half way done with my halloween contest thingamajig, but I feel like I'm making it into a full fledged novelette which is too hardcore.   So I'm probably gonna take out the halloween-ish elements and just turn it into a thriller.  Which means I have to go back to the drawing board/or not do the contest.
I have finished another short that's up for sale though and am working on the BDSM novelette based on works by Passiones Martyrum (http://www.passionesmartyrum.com/).
Here's the new erotic short I have for sale, Sugar and Spice.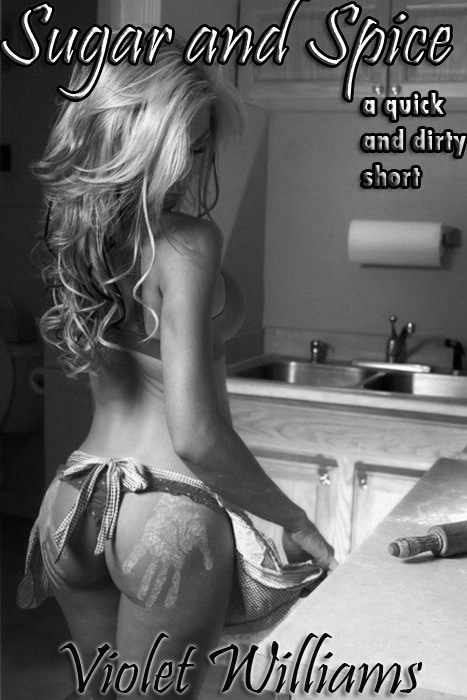 And here's the description:
Candi Stone is just trying to have a good time…even if it means ignoring her stepdad's silly curfew. But when she comes home from a party and he's in an especially funky mood, Candi discovers that her parents are having a spat…and she's at the center of it. But they're not having at it because of Candi's wild behavior—Candi learns that her mom found out that Joe has a thing for his stepdaughter.
Funny, because Candi's always had a thing for her stepdad…
Sugar and Spice contains mature content including pseudo incest, spanking, and sexual content. All characters are eighteen plus and this title is intended for adult audiences ONLY.
**Also includes excerpts from other taboo shorts available by Violet Williams:
-Butterfly Kisses
-Snapped
-A Forbidden Tryst
It's my first foray into spanking erotica!  I think it turned out pretty well if I say so myself. 😉
Here' s a couple of buy links:
Sugar and Spice at Amazon
Sugar and Spice at Barnes and Noble
Sugar and Spice at Smashwords
Thank god tomorrow is Friday! I have a vampire marathon/drinkathon scheduled for Saturday and then me and Mr VW are headed to the LOTR concert Sunday night. Cheers!